The focus of this month's October BLOG can be found on the REBATES & INCENTIVE menu on the new website.  Scroll down to RAIN GARDEN on the left and choose View Rain Gardens Manual for Homeowners (PDF).  Note that this rebate is $3 a square foot.  That's quite a return!
This guidebook is entitled Rain Gardens A How-To Manual for Homeowners. Feel free to download a copy.  It was written specifically for utility billing customers of the City of Prescott but can still serve as a handy reference for other communities, too.
Any questions? kay.sydow@prescott-az.gov
Phone is 928 777 1130, extension 5012.
In addition to the guidebook referenced above, there are extremely interesting YouTube videos by Brad Landcaster, who lives in Tucson. A recommended 20-minute video demonstrates how you can Increase your rainwater tank's capacity and uses.  Another recommendation would be Maximize the harvest: diverting water from one side of the street to the other.  You may find favorites of your own.
It should be mentioned, however, that the grey water videos do not apply to the City of Prescott, as it would reduce the volume of effluent available to help the City reach the groundwater management goal of safe yield.
ADEQ Grant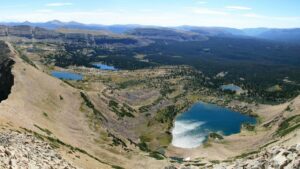 This September the City of Prescott's Stormwater Team was awarded a Surface Water Quality Planning grant from the Arizona Department of Environmental Quality to evaluate and rank 25 green stormwater infrastructure (GSI) sites across Prescott.  Five of those sites will have conceptual designs made so that they are shovel-ready!
The Watershed Management Group describes green stormwater infrastructure as "constructed features that use living systems to provide environmental services, such as capturing and filtering stormwater, creating wildlife habitat, providing shade, and recharging groundwater."  These features are often referred to as rain gardens, swales, and basins.
As part of this grant, the team will be evaluating potential sites for their capacity to:
Reduce nuisance flooding,
Improve water quality,
Bio-remediate stormwater runoff,
Reduce heat island effects, and
Beautify our neighborhoods.
We also want to hear from you!  We will be holding stakeholder and outreach meetings this fall/winter to get community input so stay tuned.  For more information on the ADEQ grant and participation contact us at: Stormwater@prescott-az.gov
For additional information on municipal green infrastructure check out these resources.